How to make a flower from polymer clay is the topic of today!
Yes, its time to reveal the technique of how to make beautiful
Easter
lillies
(
Lilium
longiflorum
) which are one of my favorite flowers to make in polymer clay. I have composed step by step instructions below and also step by step pictures, so get some clay, all you need is a minute amount, a needle tool, some paints, a wire (optional) and start sculpting!
You need to begin with a piece of clay about the size of a large marble, there will be lots of excess left over, but you want enough to draw your petals on.
I usually choose white clay for
lillies
, but this clay is a beige or
off white
color.
Next, roll out your clay with a roller or pasta machine until it is about as thin as three or four sheets of paper, the thinner the better, but not so thin that it breaks when shaping.
I take my needle tool and etch in the shape that the petals will be, for
lillies
you will need to make six petals, I make three slightly bigger and three slightly smaller since the last three will be behind the first three.
Next cut out your petals, you can just cut them out with the needle, I use scissors.
Your petals may not look all that great, but keep faith that the finished product will be a work of art! Be sure to keep a little base to each petal since
lillies
are trumpet-shaped.
Next step, etch lines into the petals, this makes them more detailed and like the real thing, skipping this step does make interesting deco-flowers.
Your petal may be starting to look like a leaf, but
dont
despair, continue to the next step.
Real
lillies
dont
really have this, but I find that it makes the flower more realistic and weathered looking to actually create irregularities in the petal edges.
Repeat this procedure until all six petals have lines and "rough" edges.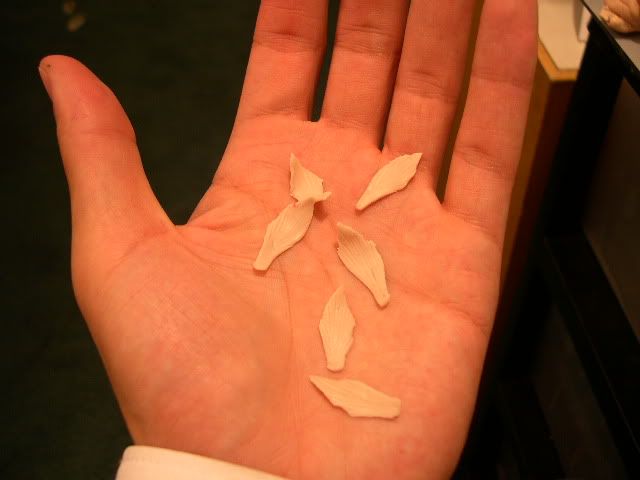 Lillies
have a yellowish interior to their flowers so take some water based paint (yellow) and water it down and just wash the bottom of three petals (the smaller inner ones) as shown in the following pictures.
Using the same three petals (these are the inner ones remember), get some brown paint and paint speckles on the petals, a couple of big ones and smaller ones will do, remember less is more.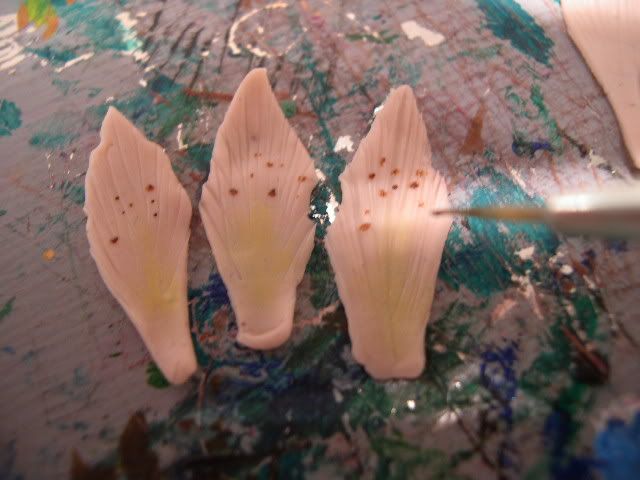 Now it is time to work on the inner part of the flower, the stalk in the middle which I'm not sure is called a style or a pistil, so I will call it the stigma (since I know its capped by this) and the filaments, creating anthers is a bit overboard if you ask me, so my filaments remain without them.
Cut the Stigma out of some of the leftover clay you have, make it shaped like a golf club.
The filaments are created the same way, but cut them out in thinner, shorter strips of clay, you want to have five or six of them.
The stigma: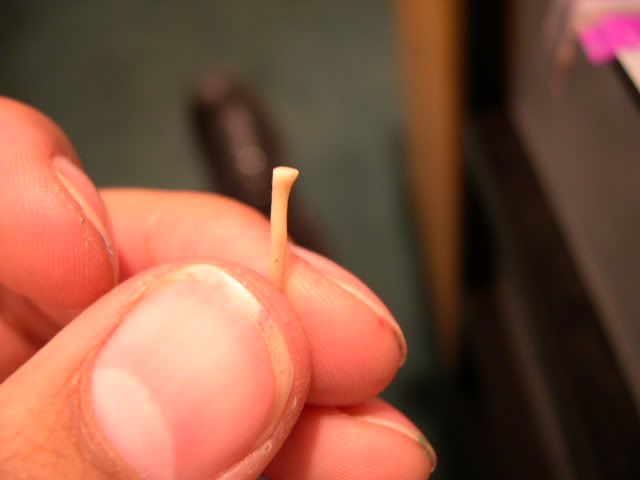 And the filaments added around it.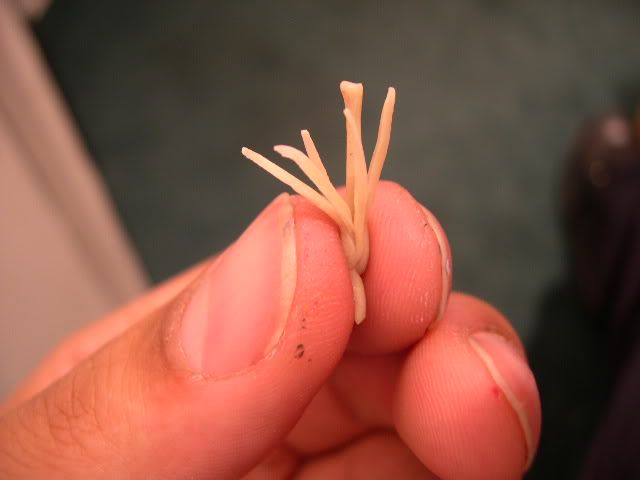 Take the brown paint you used on the petals and paint the tip of the stigma with it, don't worry if real
Lillies
have white stigmas :)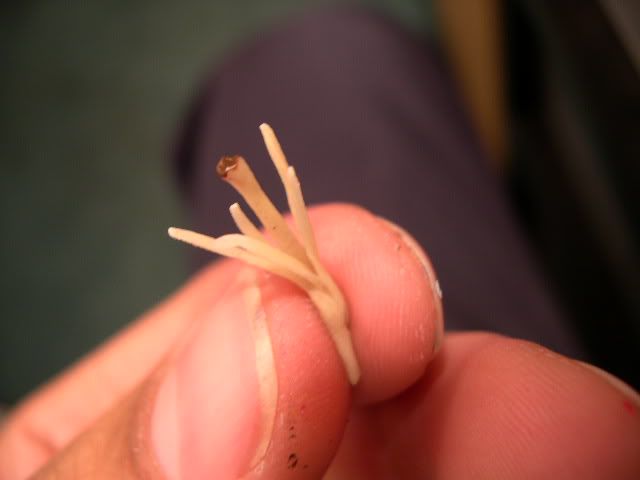 Hopefully this entire time you have been making the parts to the flower you have been thinking about your finished product, if not, now is the time!
Take the three inner petals and wrap their ends around your needle tool to round them.
Recap, you should have what I have here, six petals scored with lines and edges roughed up, three of these are painted and have their bases rounded. Also included here is the optional wire, I used a paper clip since its inexpensive and easy to obtain.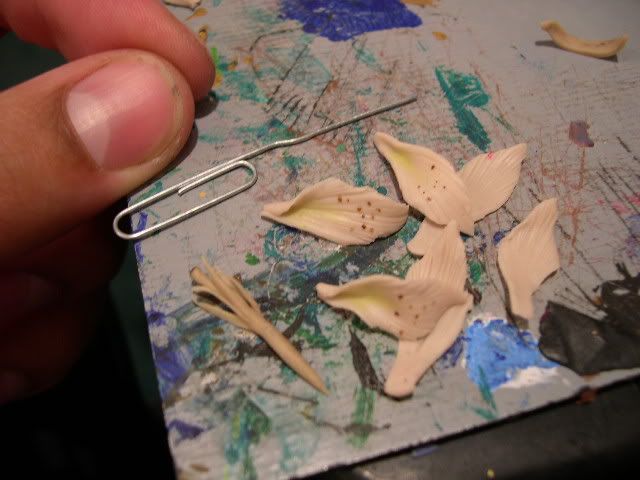 This is optional!
Insert the inner flower part onto the wire for support.
Now the real fun begins, begin attaching the flower petals onto the flower. Use your best petal first as it will always be able to be seen when people are looking at your flower, the other two petals may be partially behind the first one so keep that in mind.
Once the first three painted petals are on, begin to place the other three backing petals onto the flower, they go in between the first three as pictured.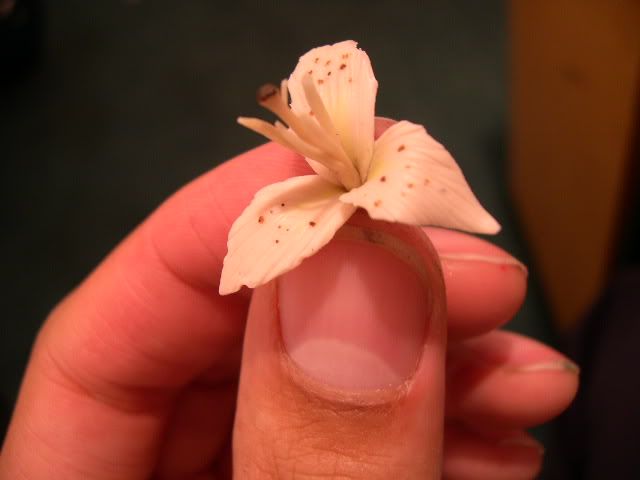 Yay
, you made something beautiful, admire it!
You can also curl the edges of the petals to make it look like an older flower, or pull the petals forward and make a more trumpet shape for a younger flower look.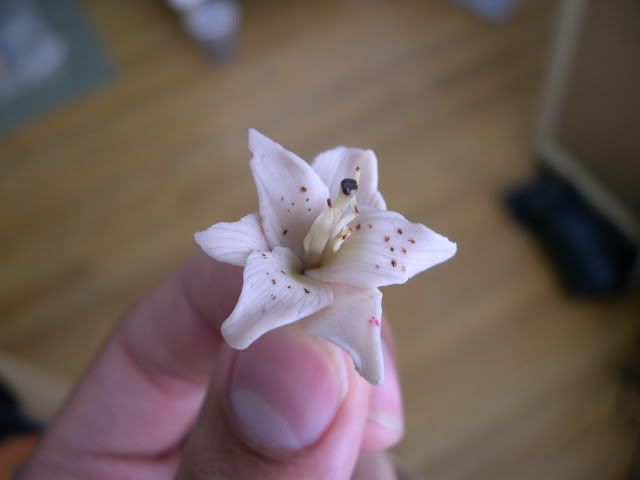 And that's all folks, after you bake your polymer clay flower the shininess will disappear and you will never stop being asked, "did you really make that?"
Good luck!
-Pedro Ramirez Jr