"I have a lot of growing up to do" was the thought that occured in my mind after making my angel wings. This thought came about because I always sort of had a slight disdain for people who would come up to me and tell me "im into angels" yet I realized ive always been obsessed with feathered wings since I was a little boy. I have a lot of growing up to do because people deserve a little empathy sometimes.
So yesterday I finally got to do something I have always wanted to do, and that is make a pair of wings. These wings are simplified for sure, but still impress me. I went to a craft store to get wings, but all they had were those doves made out of foam and feathers and the wings dont really look real to me, so I bought my own feathers, a pair of scissors, and glue and made my own.
I put the wings on my elongated angelic figure and wanted her to be armless to remind me of the first time I saw the Victorious Nike statue which I think was Victory of Samothrace. I remember noting that although her head and arms were missing, the beautiful wings preserved were astounding to me and I loved them. I wanted to pay trubute to this. But then I got a better idea, why not a fallen angel... My fallen angel.
If I ever finsish the piece, it will be called just this: My fallen angel.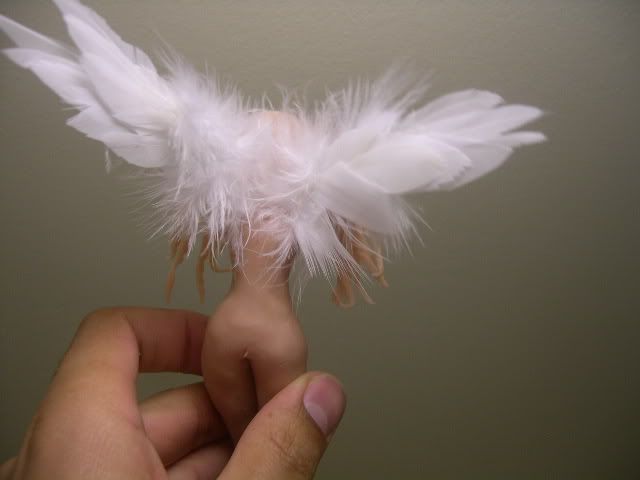 Below, is how I hope she ends up when finished, perhaps holding one of her arms with the other.