Today I was able to gift blogger
Nando's
friend Cris with a Butterfly Person.
The sculpture seems normal when you look at it... golden girl holds broken wrist... my work often appears arbitrary like this, and though the broken wrist does indicate fragility, if one were to do their research they would see just what this piece symbolizes...
WAY
more than a golden fairy-girl with wings.
The piece was designed to be a three dimensional canvas for an important black and white ink drawing that I have done which the hard copy is on paper. See below.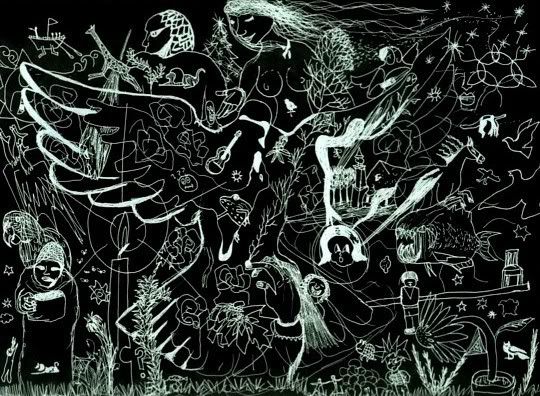 The most important elements of the drawing were taken such as the symbol of peace, the dove, and several images of lovers together, the candle to light the path of your destiny, and love was written on her arm as a manifestation of these things. The figure is supposed to send out these energies, love, togetherness, and lighting of the life path. I thought that the imagery was interesting but I had to mask slightly the obviousness of the figure so I sprayed her in Gold. The gold partially, not completely obscured the images beneath the paint and that is how the figure was gifted. Her wings are blue and Gold, symbolizing riches and prosperity, but the underside of the wings (the side you see when looking at the figure head on) were left in their natural state, "shine, but never loose sight of who you really are." Below are some images of the figure before she was covered in Gold. Hope Cris likes her and is not freaked out that the mundane is not so mundane… that's how we artists are, always including some importance in our work even if its beneath the surface.
Cris & Nando @ Union Square